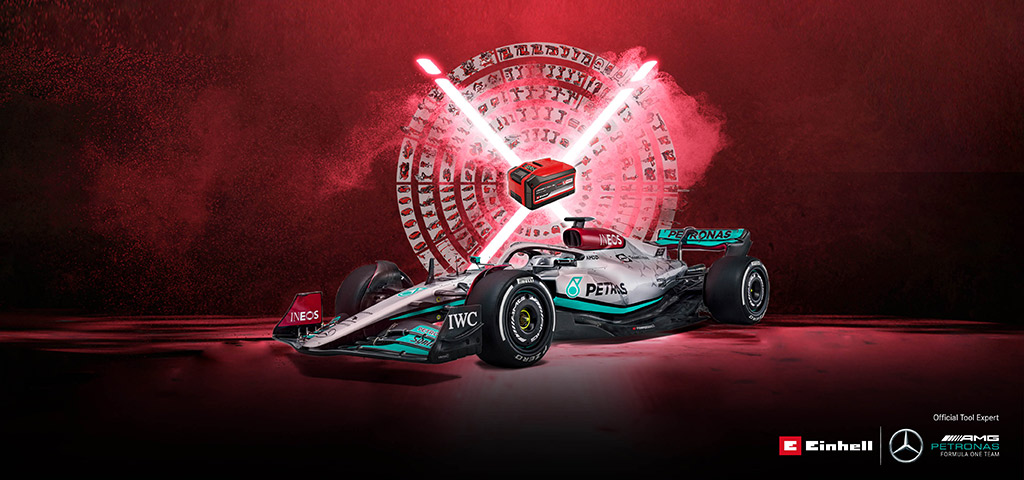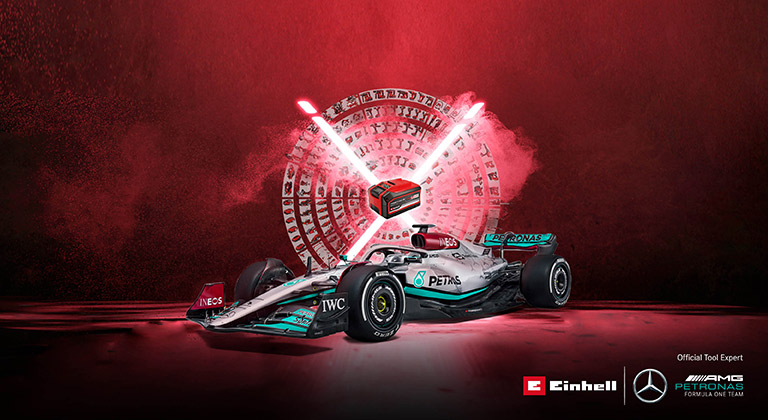 Einhell is proud partner of the
Mercedes-AMG PETRONAS F1 Team.
We are starting the year 2023 from pole position: Since 1 January 2023, Einhell is a new partner of the Mercedes-AMG PETRONAS F1 Team, supporting them in the top tier of motorsports as "Official Tool Expert". As a proud team partner, we support the Mercedes team with our battery-powered tools, what allows us to demonstrate our cordless excellence under the most extreme conditions.
4 CITIES - 3 CONTINENTS - 1 EINHELL GUERILLA ACTION
We made a global statement as a season opener 2023.
It's the biggest guerilla campaign that Einhell Germany AG has ever run in the almost 60 years of the company's history: A specially developed animation was projected onto the facades of buildings on 3 different continents in 4 different cities - in Barcelona, London, Melbourne and Montreal – at the same time. The reason? The start of Einhell's first season as the "Official Tool Expert" of the Mercedes-AMG PETRONAS F1 Team. The guerilla action is intended to underline its support for the racing team. We wish our partner a successful season 2023!
"We are proud to support the most successful racing team of the last decade in Formula 1 with our cordless tools as the 'Official Tool Expert' and thereby put our expertise in batteries to the test under the most demanding conditions."
TWO PARTNERS. MAXIMUM PERFORMANCE.
When cordless excellence reaches the next level.
Then it's all about Technology. Power. Endurance. And Passion. To deliver maximum PERFORMANCE. Formula 1 and Mercedes-AMG PETRONAS F1 are, like no other sport, a true symbol for quality, top performance and endurance, as well as technological innovation. It is exactly these traits that also characterise Einhell's batteries and tools. Both Einhell and Mercedes-AMG PETRONAS F1 use only the best components and the most intelligent and efficient system.
Support on and off the race track
Our logo on the F1 car and suits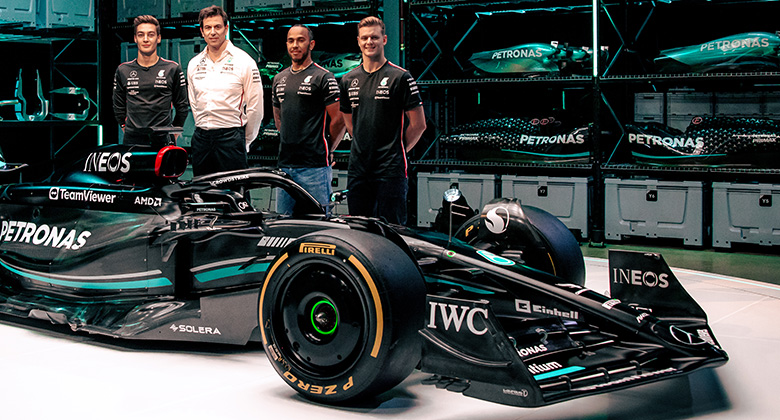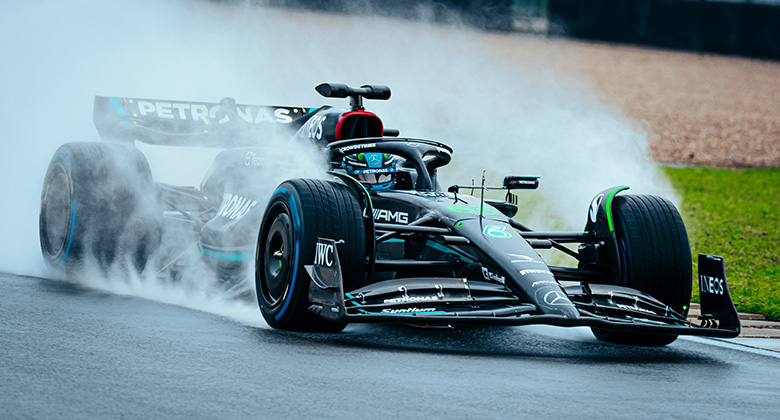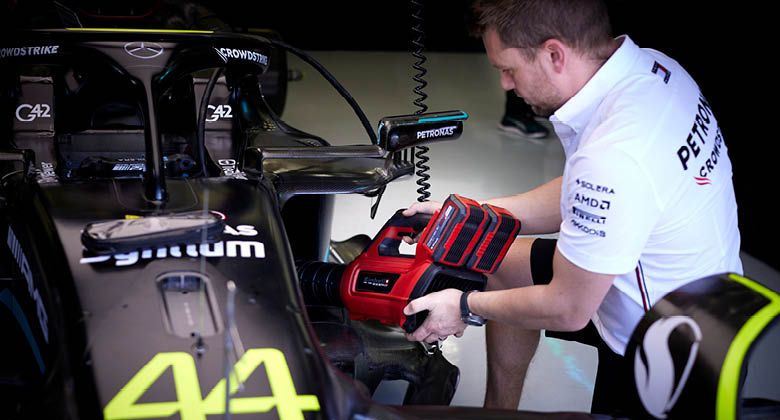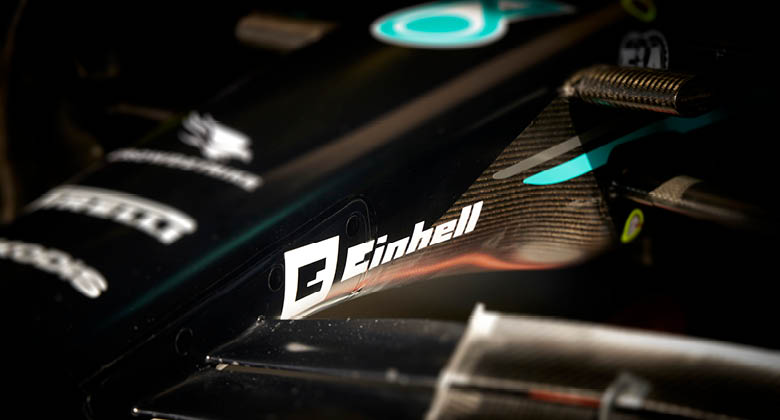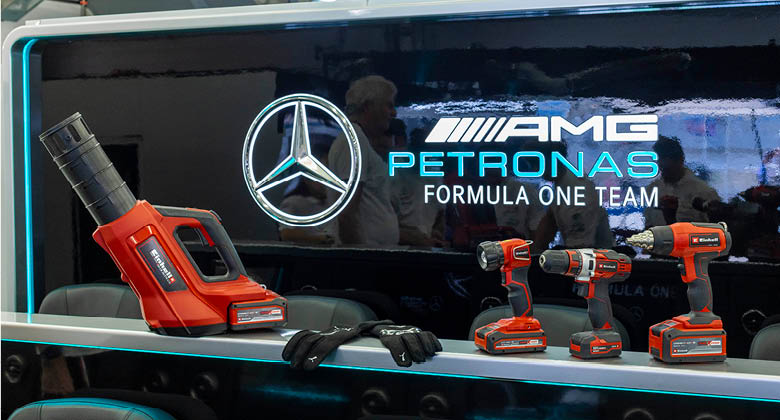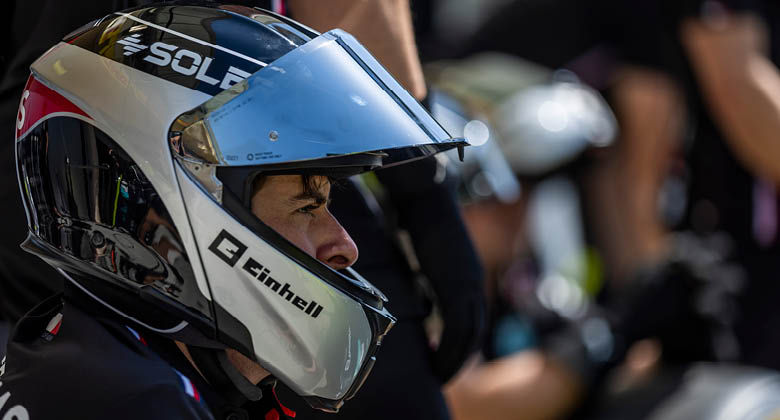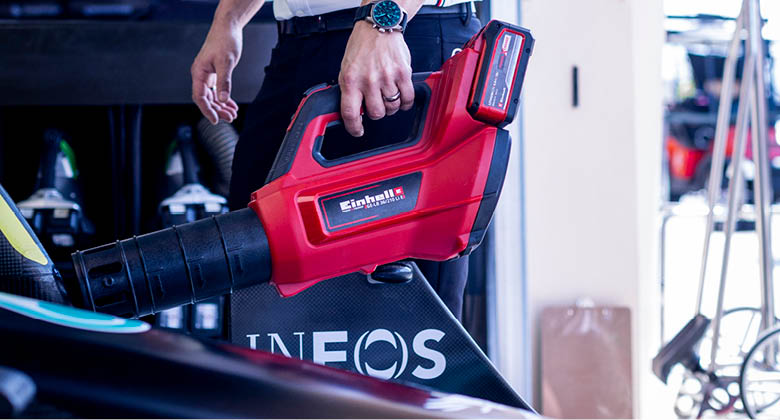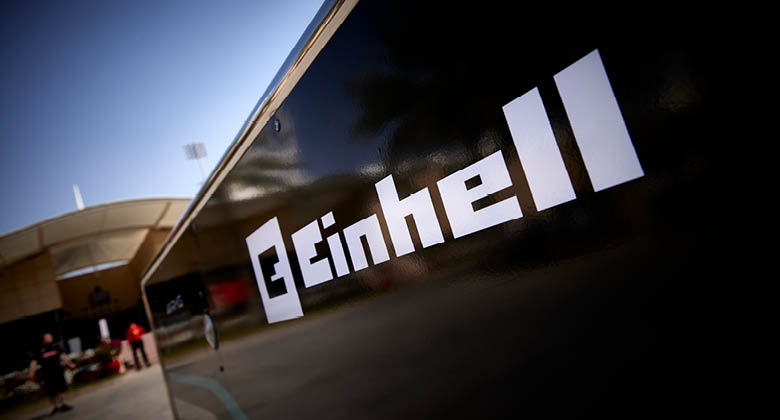 Einhell & Mercedes-AMG PETRONAS F1 Team - a 'perfect match'.
An interview with Toto Wolff - Team Principal & CEO of the Mercedes-AMG PETRONAS F1 Team.
Toto, what unites the Mercedes-AMG PETRONAS Formula One Team and Einhell?
Toto: I think the basis of what both Einhell and Mercedes-AMG PETRONAS Formula 1 team do is technology. It's about pioneering and setting standards in the industry. The second is the energy and determination of the senior management.
Toto, you as CEO in your Team have the ambition to become World Champions every year. Do you also demand this ambition in your partner network?
Toto: It is clear, that no team or no company can win the championship every year, but we can learn as much as possible and aim for sustainable success. I can see with our partners that we all share the same ambition to succeed. From our first meeting, it was clear that there was an alignment between the Mercedes-AMG PETRONAS Formula One Team and Einhell. We share a unique set of values and that creates a great basis for our Partnership.
"We are delighted to partner with Einhell. They are consistently setting new standards in their industry with the constant development of their technology. By using Einhell's battery-powered tools and equipment, we benefit from the latest technology for maximum performance."
Toto, and will we start to see Einhell products used in the garage?
Toto: Absolutely! Our mechanics and engineers are already studying the product selection. We will be visiting the Einhell premises in order to immerse ourselves in the brand. This is important for the success of our partnership; our team will undergo product training of Einhell products, and we will begin to integrate the battery powered tools in the garage over time.
We are looking forward to a successful partnership.
Be part of it and follow our new mission - starting in 2023!