Powerful and precise – the Einhell cordless biscuit jointer in a practical test
If you're a true DIYer at heart, then your motto will be "Why buy furniture when you can build it yourself?" If this is you, then a biscuit jointer should absolutely be part of your basic equipment! With flat dowels and grooves, you can create very precise and robust connections between two pieces of wood, and that's where the biscuit jointer comes in. If you don't have one yet or want to replace your device with a new one, you should take a closer look at the Einhell cordless biscuit jointer TE-BJ 18 Li. We have delved into the details of this handy cordless jointer in the practical test and explain which features you can look forward to and what you should pay attention to when working with biscuit jointers.
What the cordless biscuit jointer can do
Milling without height adjustment
The Einhell cordless biscuit jointer is a real all-rounder thanks to numerous adjustment options. Almost freehand, grooves for flat dowel connections can be milled as no height adjustment is carried out beforehand.
Milling with height adjustment
An exact height at which the groove is to be milled can be set beforehand by means of infinitely variable height adjustment. Thanks to presetting, you can attach the cordless cutter to the workpiece and it will no longer slip out. This is because a slanted groove or a groove milled at the wrong height results in an unclean, slanted connection of the two workpieces at the end.
Groove milling
Milling long or circumferential grooves is also no problem with the Einhell cordless biscuit jointer. The milling cutter can be guided precisely and straight along the workpiece thanks to the solid aluminium angle guide together with the height adjustment.
Mitre milling
Thanks to the infinitely variable angle adjustment, the cordless biscuit jointer is also suitable for mitre milling. With the help of the scale, the milling angle can be set up to a maximum of 90°. This means that both individual grooves for flat dowels and long grooves can be mitred. So, DIY furniture building is no longer a barrier!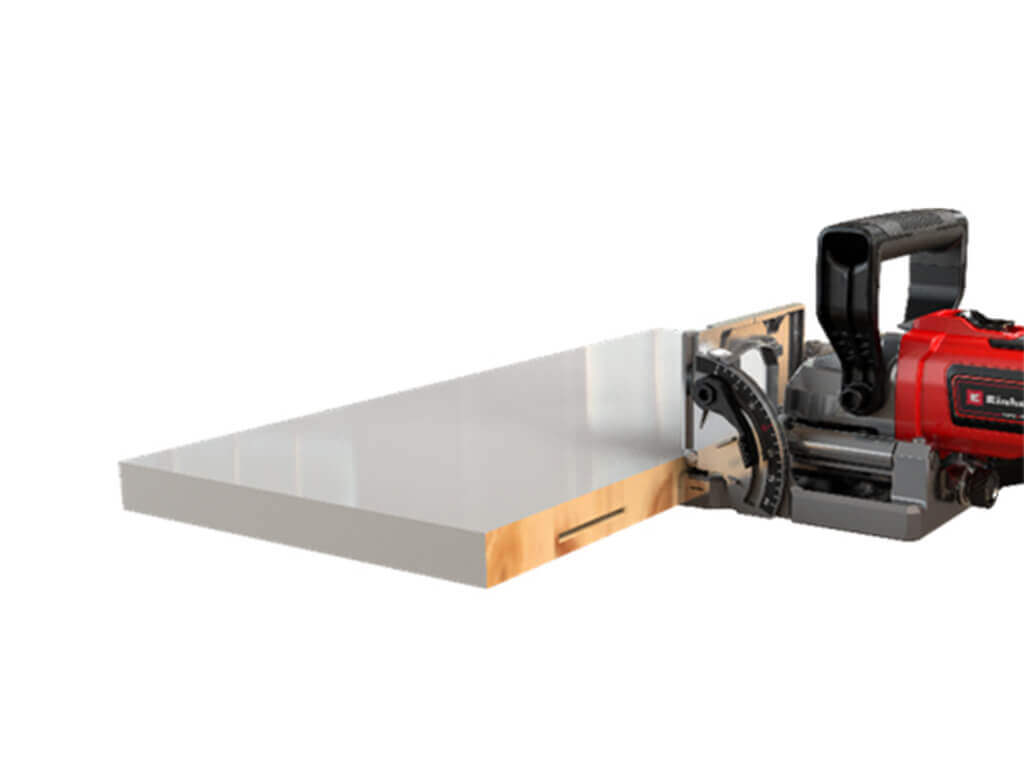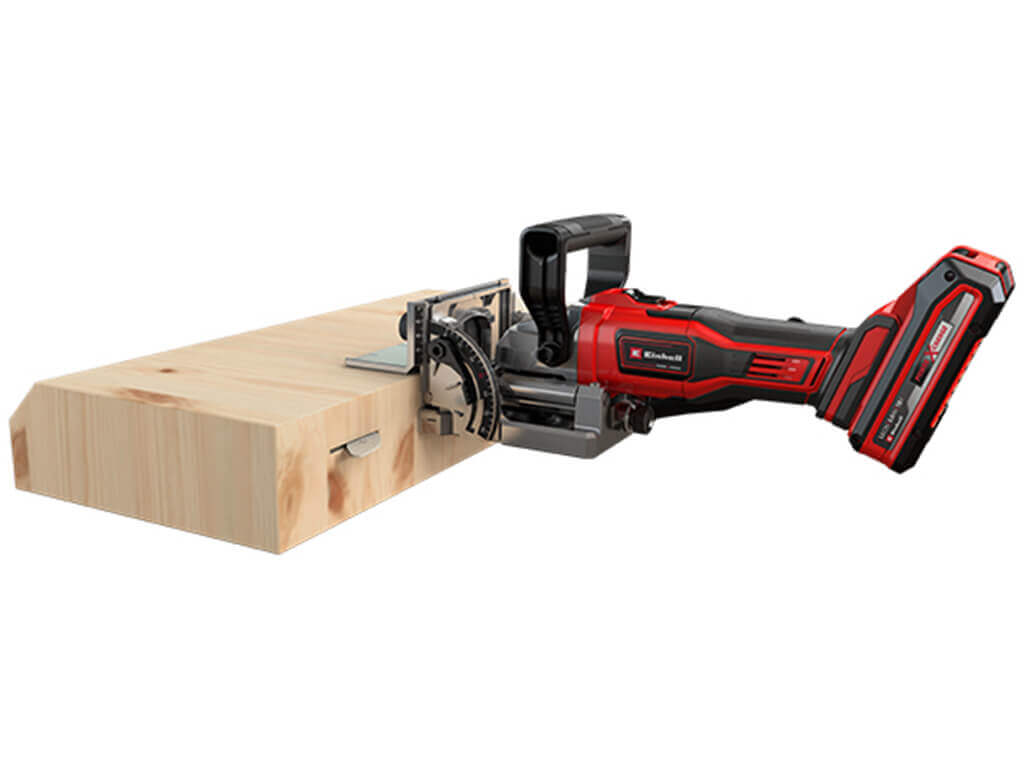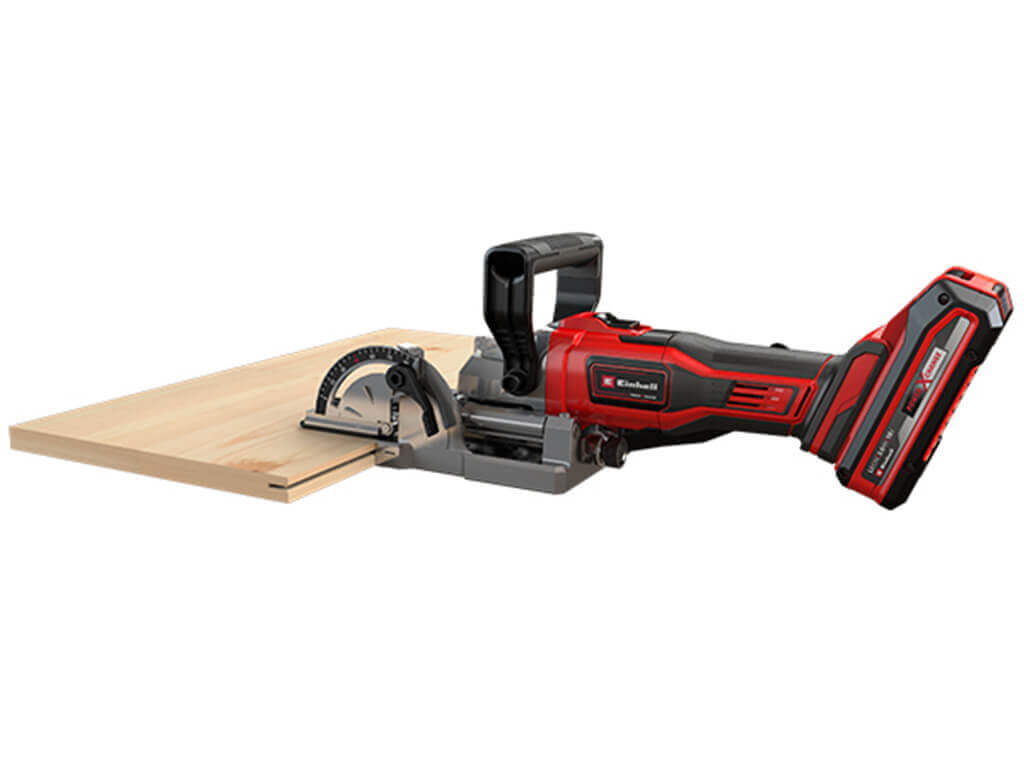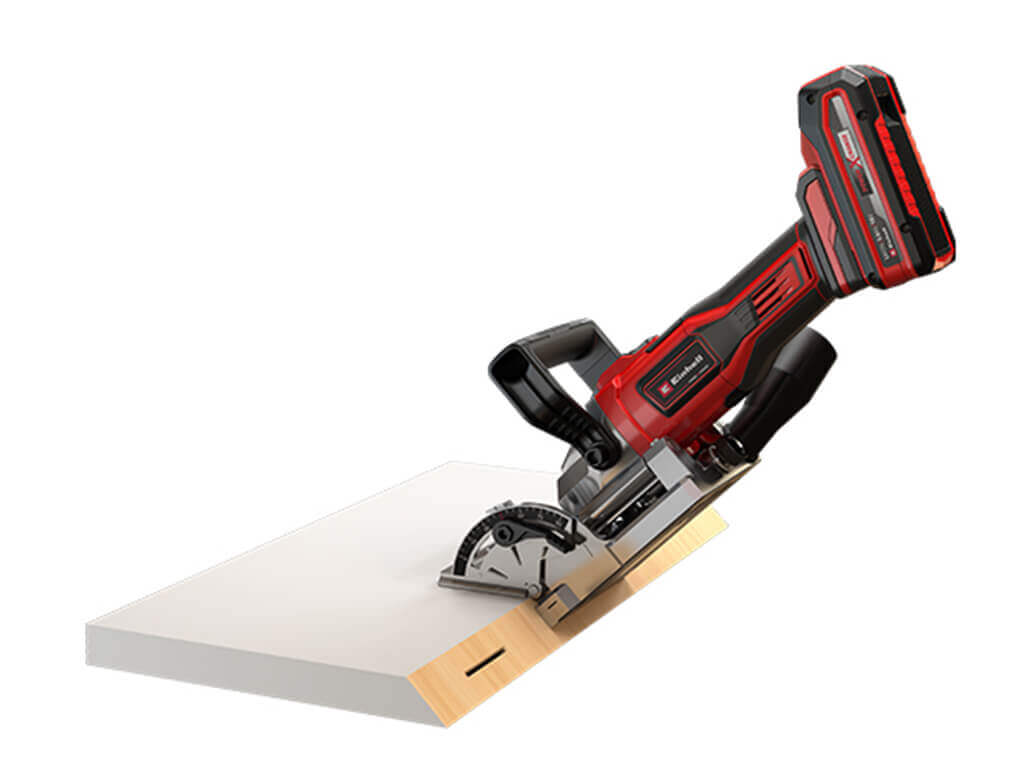 How the cordless biscuit jointer impressed in the test
The first cordless biscuit jointer TE-BJ 18 Li from Einhell doesn't only impress as a flexible and powerful Power X-Change cordless tool. It is also equipped with many features that make it an absolute must-have for any ambitious DIYer. If you like working with wood, you should absolutely take a closer look at the model. We have summarised what really impressed us about the handy machine in the test:
Weight and design: Thanks to its ergonomic and slim design with softgrip surfaces, the device not only sits ideally in your hand, it also enables very easy and pleasant work at just 2.2 kg.
High-quality angle guide: The high-quality metal angle guide made of aluminium enables precise work when producing transverse, longitudinal and corner connections.
High milling depth: For the flexible use of all commercially available wood flat dowels up to Type 20, the maximum milling depth can be adjusted up to 20 mm using the 6-stage quick adjustment.
Individual adjustment options: In addition to the milling depth adjustment, the angle and milling height can also be individually adapted and continuously adjusted.
Durability: Maximum durability of the cordless biscuit jointer is ensured by an overload protection, which protects the high-quality components.
More practical features to make work easier
Additional handle: For optimal handling in any situation, the cordless biscuit jointer is equipped with a practical additional handle. The milling cutter can be guided incredibly safely with two-hand operation.
Extraction adaptor: Instead of working with a dust collection sack, a suction device can also be connected to the extraction adapter. The adapter is compatible with all Einhell wet/dry vacuum cleaners. This means the workshop stays clean, even during lengthy work.
Dust collection sack: So that you don't spread wood dust and chips everywhere in the workshop, a dust collection is included with delivery and collects dust and dirt.
Spindle lock: With the spindle lock system and the supplied front hole spanner, changing the cutter blade is quick and easy.
Incl. milling cutter blade: So that you can start your projects immediately, a 4 mm-thick milling cutter blade (diameter 100 mm) is already included as an accessory with delivery.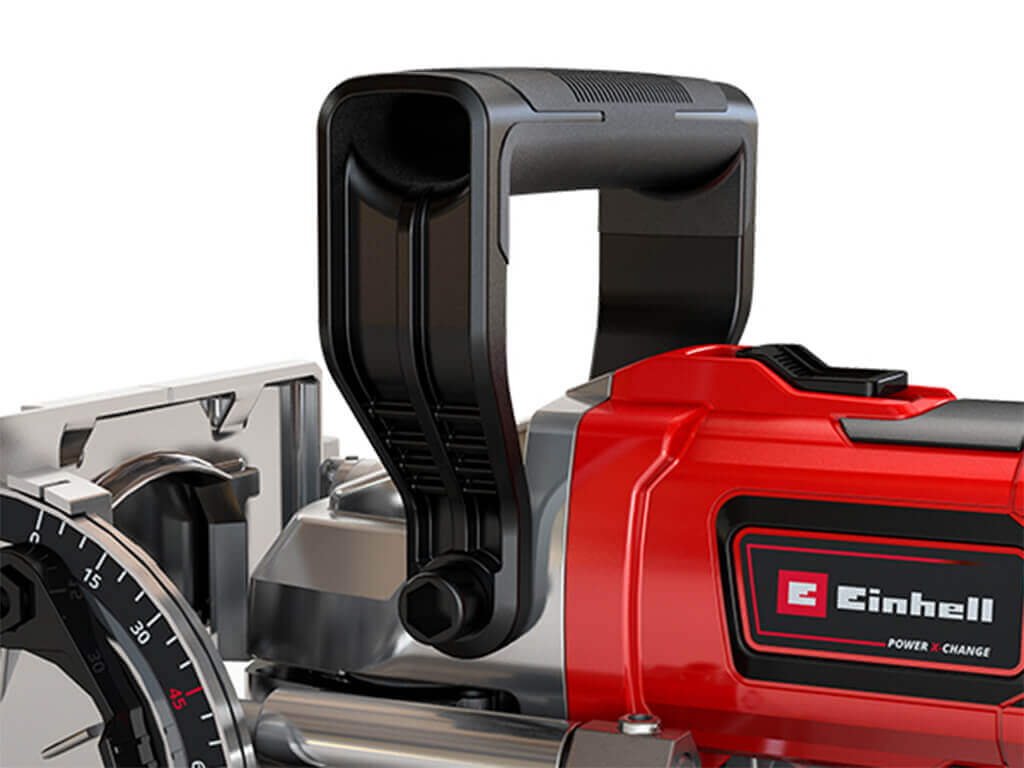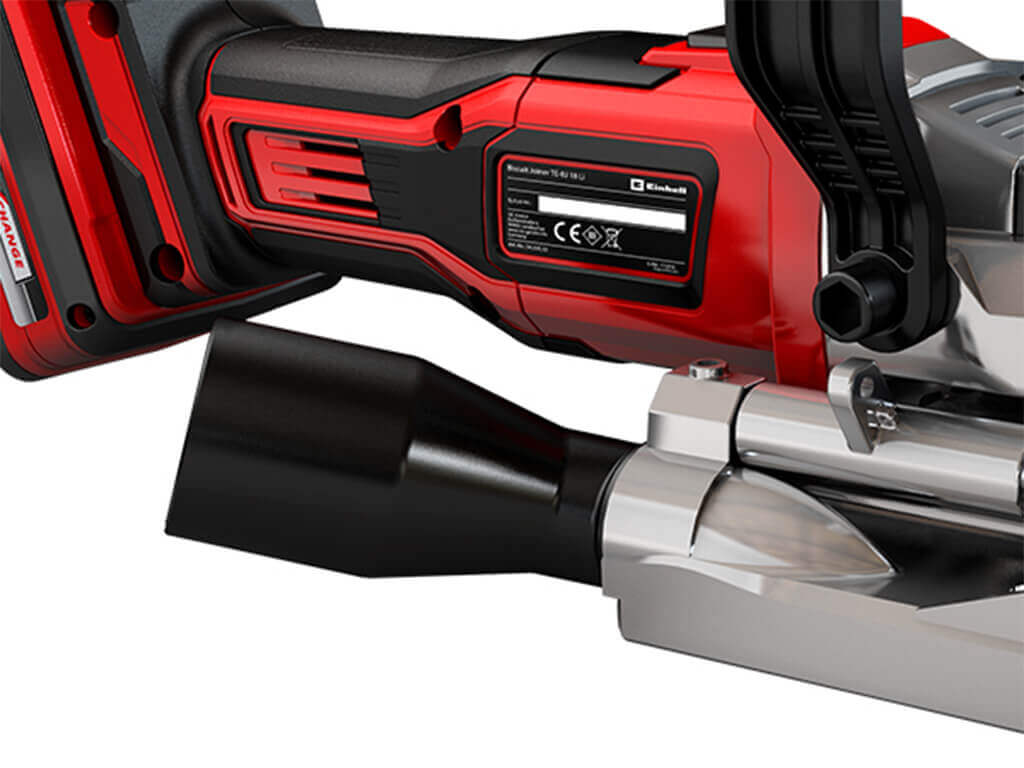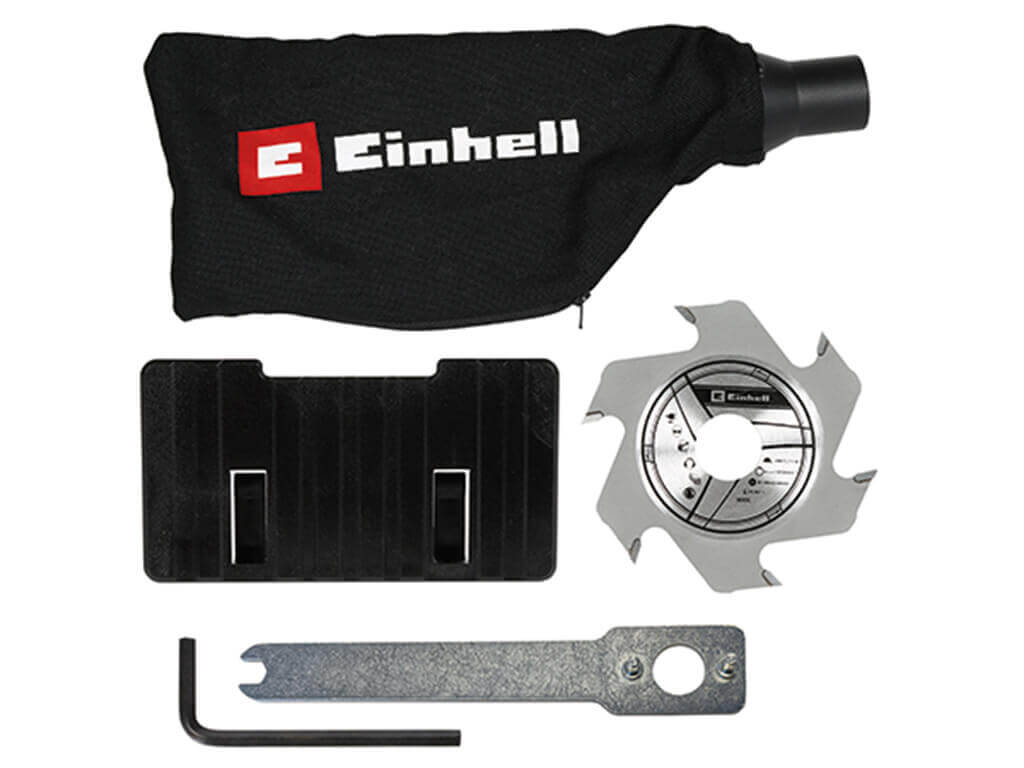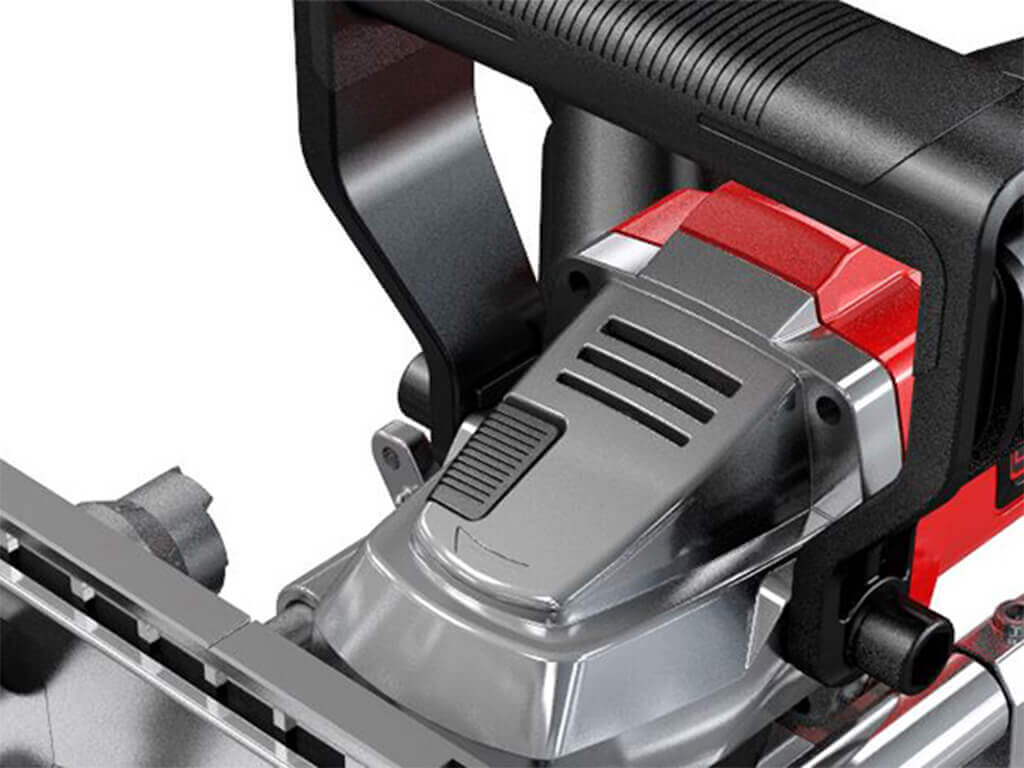 Benefits of wireless battery power
The biggest advantage of a battery-powered device is obvious: You can work unrestricted, without a cluster of cables and with maximum freedom of movement. Depending on how intensively you want to use your cordless biscuit jointer, you can flexibly decide which battery to use, because all devices, chargers and batteries in the Einhell Power X-Change family can be combined with each other. In combination with the powerful PXC lithium-ion batteries, the cordless tool impresses with high performance. This means that the search for extension cables and sockets is quickly becoming a thing of the past. Today, batteries and various wireless devices are simply combined as you need them right now! So, you're always ready for your next DIY project.
Expert tips: What should you pay attention to when working with a biscuit jointer?
Since the Einhell cordless biscuit jointer already comes with a milling cutter blade, you can start working immediately. Nevertheless, you should always make sure that you are using the right suitable milling cutter blade. This differs depending on the material or type of wood. When purchasing additional milling cutters, make sure that they are recommended for the material for which they are used and that they are compatible with the milling cutter blade holder on the cordless biscuit jointer (diameter 22 mm).
Since you can use the six-stage milling depth setting to determine the milling depth depending on the dowel size, you should also know how to select the right type of flat dowel. For example, a Type 0 flat dowel is recommended for very thin boards with a thickness of at least 10 mm. Type 10 is suitable for wood pieces up to 15 mm thick and Type 20 is generally used for thicker workpieces from 15 mm thick. With the other three possible milling depths of the cordless biscuit jointer, you can determine the depth of a groove to be milled. A maximum milling depth of 20 mm is possible.
During milling, wood dust and chips are swirled up. Therefore, when working with a biscuit jointer, you should always work with safety goggles, a dust mask and, ideally, ear protection, because when milling in wood things can get noisy.
Summary: The Power X-Change family has been expanded by another must-have
The cordless biscuit jointer TE-BJ 18 Li is another high-performance and high-quality device among the ever-growing range in the Einhell Power X-Change family. If you already have one or more PXC batteries and like to work with wood in your workshop, you shouldn't wait any longer, because the biscuit jointer impresses across the board in our test. If you don't yet have a Power X-Change device in your equipment, just one question remains: What are you waiting for?
In this article you will learn all about: