The grass shear in detail
The cordless grass shear is a useful device for taking care of lawn edges and shrubs. You can discover all about the grass shear in the Einhell blog. With a small, handy cordless grass and shrub shear from Einhell, caring for lawn edges, bushes and shrubs is child's play. Today we're presenting the grass shear GE-CG 10.8 Li and we'll show you everything it can do.
Operation
The hand-held grass shear is guided just above the ground and cuts grass in hard to reach places. Thanks to its cordless battery operation, your freedom of movement is never restricted. You can also cut bushes and hedges by changing the blade. With the telescope extension, you'll save your back and finish your work faster. The essential features are shown below in more detail.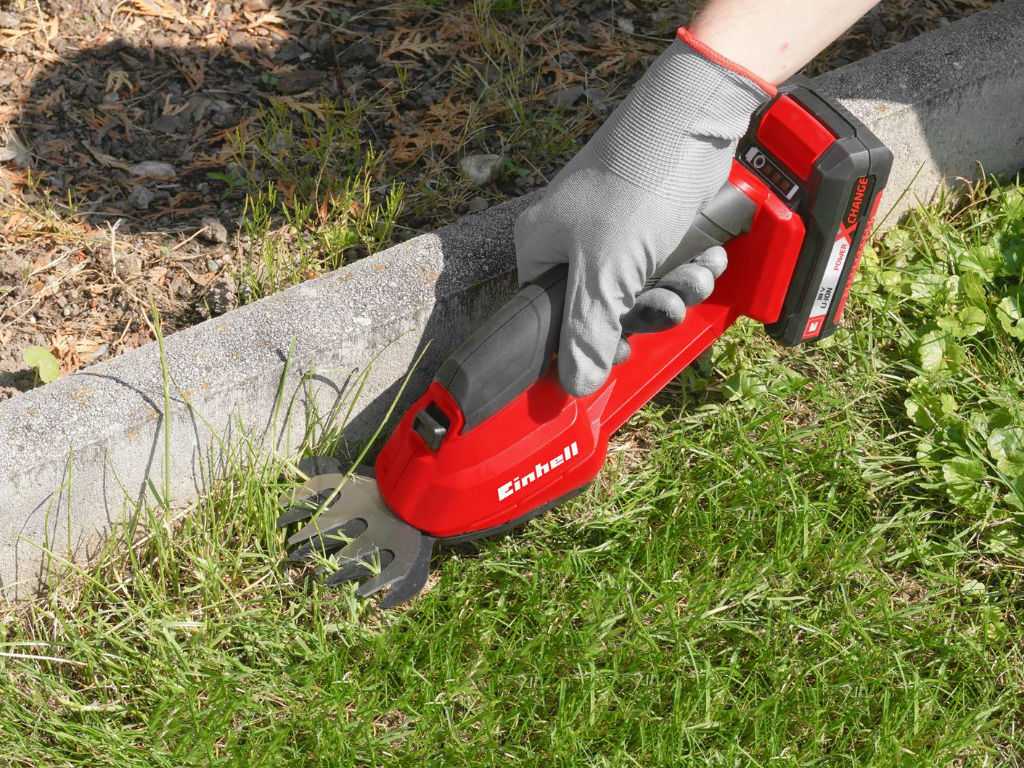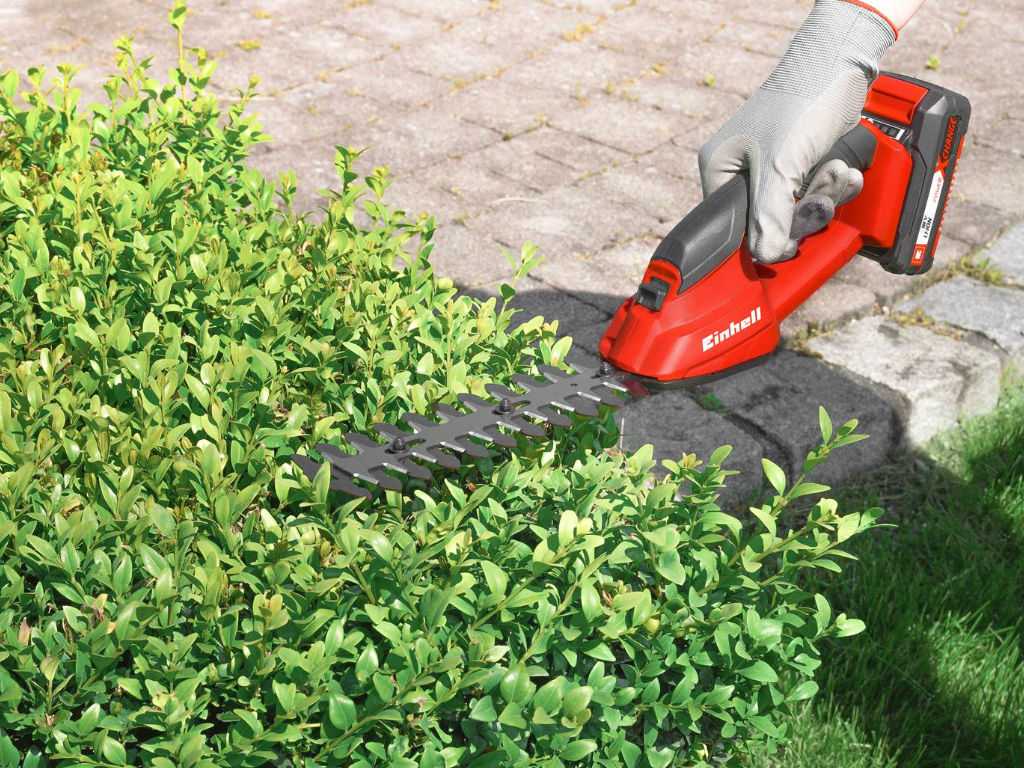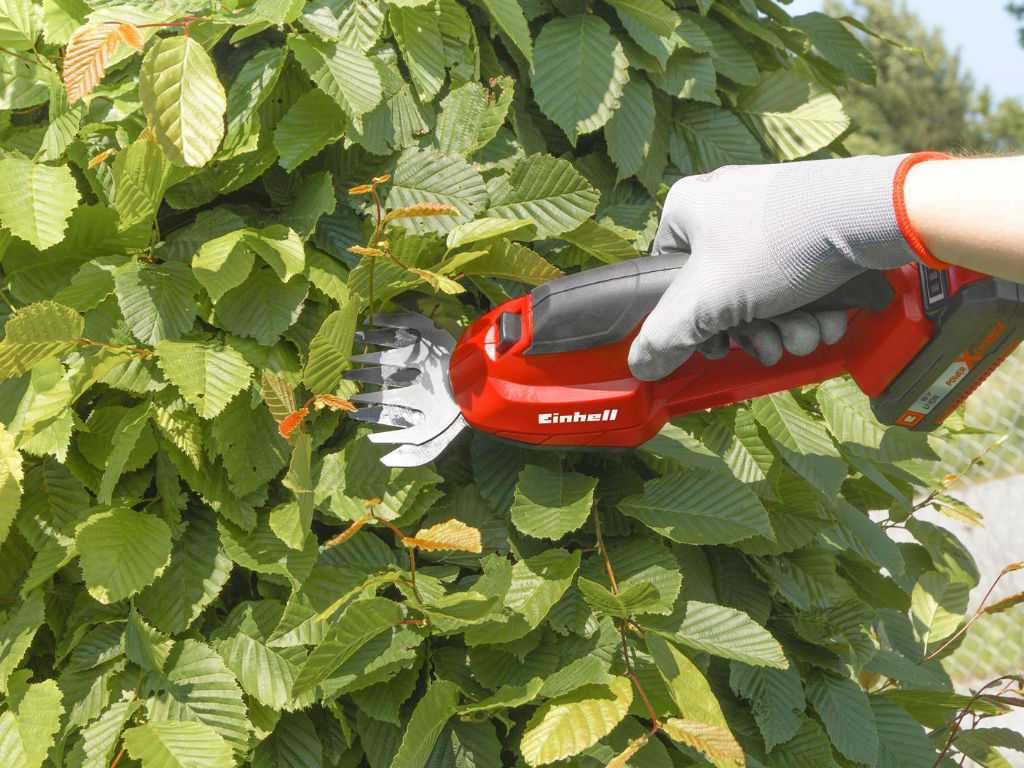 The grass cutting blade
The grass shear is equipped with a grass cutting blade which impresses with its precise movement and its sharpness. This is made possible thanks to its laser technology production processes. This means the grass is cleanly cut and not squashed or pulled out. This has a positive effect on the growth and health of the lawn. With a 100 mm cutting width, you can get anywhere and cut quickly.
The shrub cutting blade
With the simple press of a button you can swap the grass cutting blade for a shrub cutting blade, which works just like its smaller brother. It is approximately twice as long (200 cm) and is perfectly suited for cutting small hedges, box tress and that annoying ivy that's creeping over from your neighbours.
Battery
Nowadays, lithium ion batteries are the standard. To keep the weight low, 10.8 volt technology is used here. Through a highly-visible charging light, you can see if the built-in battery is full or not. The battery can be fully charged in around 2 hours and has a capacity of 1,300 mAh. This gives you an operating time of approx. 1.5 hours. Which should be plenty.
Telescopic extension
So that you don't have to make an appointment with a physiotherapist after every time you cut the grass, this grass shear is equipped with a telescopic rod. It can be attached and detached with just a click. At the lower end of the rod, two smooth-running wheels are attached to facilitate guidance. On the handle of the telescopic rod, there is a switch to turn the grass shear on and off. The connection is made via an integrated cable, which is plugged into the charging port.
Accessories
Protective covers are provided for both of the blades. This is important as there will always be one blade not in use. The adapter for the telescopic rod is also protection to prevent inadvertent replacement of the cutting blade during operation. The gearbox consists of metal gears, the telescopic rod is made of aluminium and the body made of impact-resistant plastic. These are all factors that ensure a long product life. The grass shear also has a 24-month guarantee with a free extension to 36 months.
So there's no longer any reason to be annoyed about those hard-to-reach areas that were not accessible when mowing the lawn. Even when mowing the lawn, you can carry the grass shear with you and use it at lightning speed. Enjoy it!
Our product recommendations for your DIY project