Powerful and cordless: Digging holes made easy with the Einhell cordless earth auger
Planning to redesign your garden? New plants, shrubs or saplings need to find their way into your green space, all surrounded by a brand new fence? Don't put yourself through the hard work at the end of a spade or manual auger and instead enjoy the advantages of a battery-powered auger! Introducing our cordless earth auger GP-EA 18/150 Li BL! Here we show you the features and functions of the cordless powerhouse.
Here's what you can do with the cordless earth auger
Quick drilling of deep holes in the ground: Augers specialise in this. The Einhell cordless auger can drill up to 80 cm deep holes with a diameter of 15 cm using the auger supplied as standard. Like all Power X-Change devices, the powerful garden tool can be combined with all batteries in the system family. The maximum runtime varies depending on the battery used and the ground itself. With a 6.0 Ah battery, for example, the earth auger can drill up to 60 holes (40 cm deep) in soft ground.
What earth augers are used for:
Planting flowers, perennials, shrubs, small trees, etc.
Putting up fence posts, signs and much more
Erecting anchors or concrete foundations for playground equipment, pergolas, etc
With a mortar mixer as accessory: Mixing mortar, plaster, concrete, etc
Different types of earth augers
Augers, soil drills, auger drills, planter drills, well drills or pile drills – you can find earth augers under all sorts of different names. First, you have to distinguish between smaller models for home use and large, hydraulic augers that are mounted on excavators. Hydraulic drills are usually used in agriculture or in the construction industry to drill very large, deep holes in the earth. However, a smaller auger, which is also significantly cheaper in price, is generally sufficient for redesigning your garden at home.
The devices for home use can also be divided into three categories, which differ according to the type of drive. In addition to manual earth augers that are manually screwed into and out of the earth, there are also models with motors powered either by petrol or a battery. All devices work wirelessly, but our battery-powered model, unlike petrol augers, does not cause any exhaust fumes, works very quietly and weighs significantly less than the petrol models. In addition, you save a lot of power because you do not need to turn the drill into the ground yourself and pull it back out again – the battery and motor support you. Above all, if you want to drill several holes in quick succession, for example to place fence posts, motor support is an advantage.
Here's where the earth auger impresses
Performance, stability, easy handling and low price: Here's where the cordless earth auger from Einhell impresses. Equipped with a powerful brushless motor, the drill operates at up to 120 rpm. The necessary power is provided by any 18 V battery from the Power X-Change family. The brushless motor not only ensures maximum performance, it is also maintenance-free and more durable than conventional brush motors, because it is not subject to any wear and tear.
The reinforced steel frame of the two-hand grip provides the necessary stability to work easily in the ground. It is particularly robust, stable and torsion-resistant. The ergonomic two-hand grip also provides a firm, secure and comfortable grip for both hands thanks to the softgrip.
With a weight of only 6.01 kg, the cordless earth auger is light enough so that you can use it easily with both hands and at the same time heavy enough to reliably dig into the ground. Only the weight of the battery that is used is added to the device weight. The supplied auger can be changed without tools with just a few simple steps for other auger accessories which are available separately. For your safety, the device is equipped with shut-off electronics that not only protect you, but also the device.
Adjustable in 3 modes:
Thanks to three different modes, you can easily regulate the force and the direction of rotation of the twisting drill with a control knob. You have the choice between clockwise rotation in two power levels and anti-clockwise rotation. With anti-clockwise rotation, you can move the auger more easily up out of the ground and release it more easily from the hole. You can use the clockwise rotation in ECO mode for lighter drilling tasks, for example to drill in soft ground. In this mode, the auger switches off automatically when resistance is higher. So you can get used to the power of the device when getting started. If you select clockwise rotation in high mode, you can also drill into hard ground. The maximum battery power ensures the greatest possible power even in case of resistance.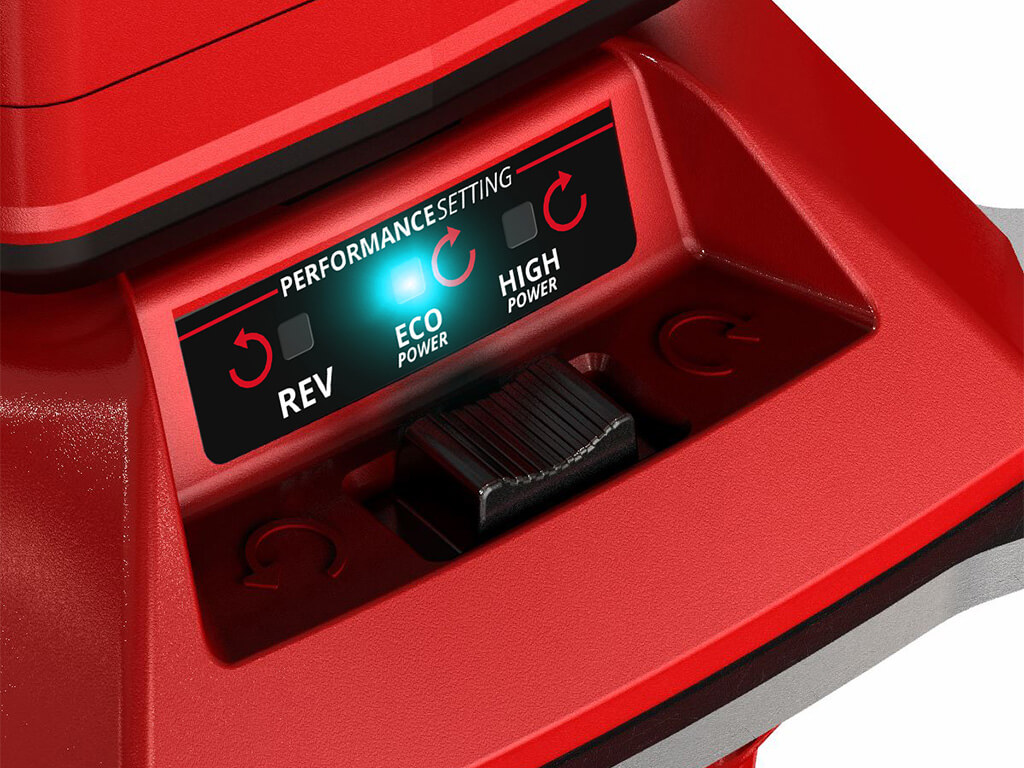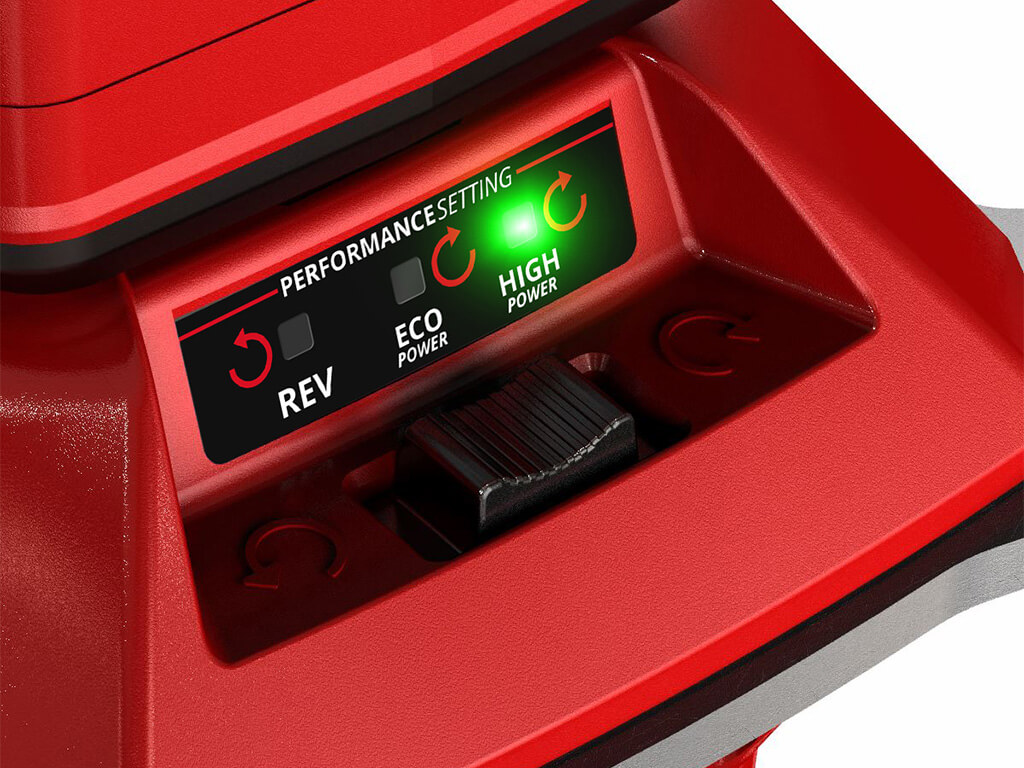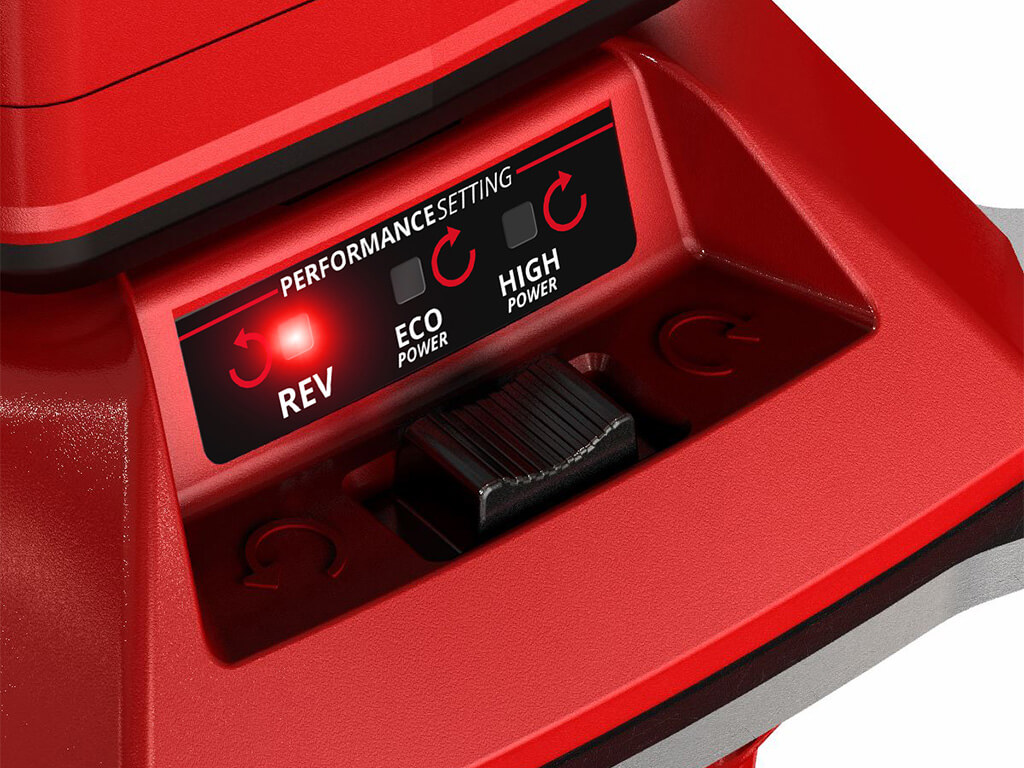 Useful accessories as an extension for the cordless earth auger
In addition to the 80 cm long auger with a diameter of 15 cm included in delivery, Einhell also offers other attachments for the earth auger:
Auger with a diameter of 12 cm: Smaller boreholes, suitable for laying sewer pipes
Mortar mixer: For stirring and mixing mortar, plaster and concrete; for example, when fencing and casting concrete foundations
1 m extension: For drilling deeper holes, the length of the auger is extended by 100 cm
Tips: What to pay attention to when working with an earth auger
It is crucial when working with the earth auger to drill into suitable ground. Our model is suitable for working on loose, compacted and harder ground. However, the auger drill is not built for clay or clay soils or sealed asphalt or stone surfaces. Even heavily rooted and stony soils are only suitable to a limited extent.
Another aspect you should pay attention to is the weather. You should not use the battery-powered device if there is ground frost, i.e. at temperatures below 0° Celsius. Even after heavy showers, it is advisable to wait and see, because the drill may get stuck in the muddy ground. The heavy, wet soil could then stick to the auger. This makes it harder to excavate the soil.
Summary: Many advantages for amateur gardeners
With the cordless earth auger, there's a new device for the shed of every ambitious gardener. If you want to plant a lot of plants, young trees or shrubs, or put up a new fence, the robust cordless device saves you from tiring work with a shovel. Even if you want to cast concrete foundations to build a new pergola or to safely set up play equipment for the children, the cordless auger is the device of choice. Compared to the manual auger, you can save a lot of muscle power and, unlike with a petrol auger, you do not cause any noise or exhaust gases. And the best part? The Power X-Change auger drill is very easy to use – making it suitable for amateurs and professionals who want to redesign their very own garden at home.
In this article you will learn all about: